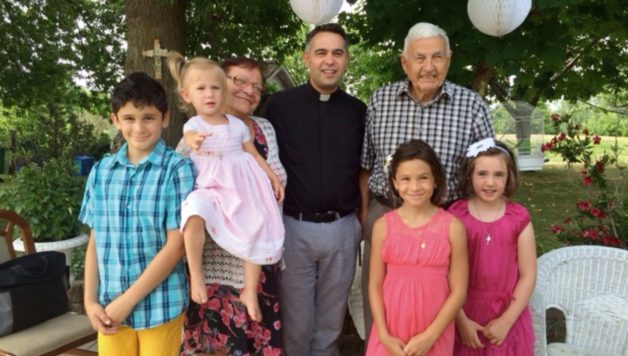 A STRONG DEVOTED COUPLE
50th anniversary of Angelo & Concetta Di Giacopo
Pubblicato il 11 Gennaio 2017
Iwanted to let you know of my parents as we congratulated them on their blessed 50th anniversary. We quietly celebrated together with their 3 children and 5 grandchildren. My husband and I surprised them with a special sacred mass hosted by Fr Roberto Mignella in their home's backyard.
Their story: On July 28, 1966, in Garrufo di Campli, TE, these two of the loveliest persons came together, bound by God and love in marriage. They are a selfless, strong, devoted couple, who share their joy and pain with a smile. Their own parents Luigi Di Giacopo and Elisabetta Malaspina, and Pierino Cicconetti and Irma Romani who were also born and raised in the region. Also devoted to their patron saint Gabriele. They raised their own 17 children amid great sacrifice and with God's Grace and love.
My parents came to Canada 50 years ago, and as life endured them, they had to establish themselves here in Canada. With their sweat and tears, sacrifice, dedication and perseverance they built a business that lasted 45 years, giving countless opportunities to their family, extended family and community. They left their hearts in Italy, and tried to instil their heritage into their children, returning to Abruzzo every few years to stay with our grand parents, and always visiting our patron saint Gabriele. May they continue to be a blessing to God, to others and to each other in their marriage.
I also want to thank kindly the priest who helped my family personally. My mother contacted the priest by phone and he sent us reassuring comfort and blessings, and a loving package for our afflicted daughter. My own daughter, Angelica, at a month before her 4th birthday, suddenly and unexpectedly had convulsions. She had a few more episodes on separate occasions. We were, as were her doctors, dumbfounded by her condition as it seemed to come out of no where, with no family history. As her mother, I was devastated and afraid. I prayed to St Gabriele, to God, and even at times found my faith to fault. But I am convinced with the strength of my own mother Concetta's deep connection to God, her prayers answered by God brought me and my daughter out of this troubled time. As of one year ago, my daughter has not had to take her medications, as almost three years has passed since her last convulsion. This is our holy miracle. I know that I have an army of love and protection in my own grandparents (who are all now passed, I see them walking and sitting with Jesus, and other uncles and aunts that are also in heaven) who are protecting my daughter and standing with St Gabriele.
Angelica was blessed with a new little sister, Vittoria-Elisabetta, two years ago, and together they are the joy of our family's lives. This year is a special time as Angelica is preparing for her Holy Communion. I am, my husband and my family are eternally grateful, and continue to pray for protection and thank God for all his gifts and the miracle we received. We want to thank you, the community of St Gabriele, as we keep you strong even here in Canada, and celebrate our patron saint as a family with his light in our hearts. God bless you always. Diana Di Giacopo-Robinson, Alliston (Cdn)